Ingredients
2 T dry yeast
3 ½ T sugar
¾ c lukewarm milk
2 ½ c flour
sifted
2 egg yolks
¼ t salt
¼ t cinnamon
8 oz butter
softened
2 T brandy
Jam of your choice
Oil for deep frying
Icing sugar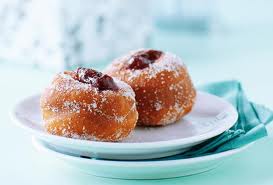 Directions
Dissolve the yeast and 2 T of the sugar in the lukewarm milk. Place the flour on a board and make a well in the center, adding the yeast mixture, egg yolks, salt, cinnamon and the remaining sugar.

Add the brandy (which keeps the doughnuts free of oil). Knead well.

Add the butter and knead until the dough is elastic.

Cover and let rise about 2 hours.

Sprinkle more flour on the board and roll the dough out thin.

Cover and let the dough rounds rise 15 minutes more.

Pour the oil into a heavy pot and heat just above medium. Drop the doughnuts in the oil 4 or 5 at a time, turning when brown.

Remove and drain on paper towels. With a tiny spoon take some jam and fill the doughnuts though a small slit. Dust with icing sugar. Makes 30 – 35 doughnuts.