Ingredients
1 c shortening
1 c brown sugar
2 eggs
1/3 c honey
1 t vanilla
3 ½ c sifted flour
2 t baking soda
Apricot jam or marmalade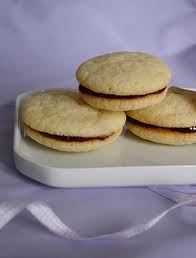 Directions
Combine the shortening, brown sugar, and eggs in a bowl and mix thoroughly. Stir in the honey and vanilla.

Sift together the dry ingredients and stir into the first mixture. Chill until firm, overnight.

Roll into walnut-sized balls and place on an ungreased baking sheet and bake in a 350 oven for 10 – 12 min, until in imprint remains when the cookie is touched.

When slightly cooled, put the cookies together in pairs with approx. 1 t of jam in between. Makes 3 dozen double cookies.