Ingredients
1 T oil
1 large onion
finely chopped
2 cucumbers
peeled and diced
2 medium potatoes
diced
1 ½ pints chicken stock (or parve chicken flavored soup powder)
1 bouquet garni
Salt to taste
¼ pint cream
2 T finely chopped mint
Mint sprigs to garnish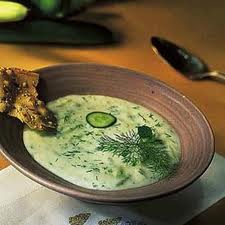 Directions
Heat the oil in a pan, add the onion and cook until transparent.

Stir in the cucumbers and potatoes, then add the stock and bouquet garni and cool slightly.

Run the mixture in a blender until smooth. Pour into a large bowl, stir in the cream and mint and chill for several hours before serving.

Serve garnished with mint sprigs. Serves 4 – 6.