Ingredients
2 T finely chopped onion
2 T flour
1 c milk
½ t salt
1/8 t dill
10 oz frozen cod
thawed
or 2 fresh cod fillets
cubed
3 medium cooked red potatoes
cubed
1 t lemon juice
1/8 t pepper
1 T mustard or mango chutney
¾ c breadcrumbs
2 T butter melted with ½ t paprika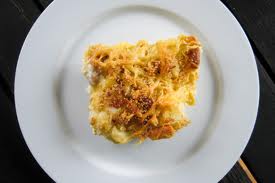 Directions
Saute the onions in the oil until soft. Stir in the flour and continue stirring until brown. Remove from heat and add the milk, then return to low heat and stir until thick.

Add salt, dill, lemon juice, pepper and mustard or chutney. Add the cubed fish and potatoes.

Pour the mixture into a 1 ½ qt casserole. Combine the breadcrumbs, butter and paprika and sprinkle over the casserole.

Bake at 350 for 30 min.